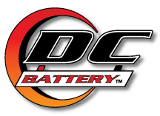 DC Battery Specialists
7415 N.E. 1st Place
Miami, Florida 33138
USA
Phone: 305-758-5041
Fax: 305-758-3469
Deep Cycle Batteries
D

eep Cycle Batteries are used where discharging and charging occurs frequently. Deep cycle batteries are manufactured as sealed, maintenance free types (Lifeline Batteries, Optima 750 Series Batteries and Power-Sonic (Powersonic) Batteries) and flooded plate types (Rolls Deep Cycle Batteries, Surrette Deep Cycle Batteries, Douglas Batteries).
DC Battery Specialists recommend...
...for deep cycle applications.
---
www.dcbattery.com