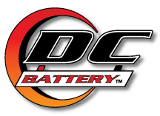 DC Battery Specialists
7415 N.E. 1st Place
Miami, Florida 33138
USA
Phone: 305-758-5041
Fax: 305-758-3469
Deka AGM Batteries

Deep cycle batteries for Marine, RV, Inverter, EV (Electric Vehicle), Golf Cart, Renewable Energy, Solar Panel (Photovoltaic), and Alternative (Alternate) Energy Applications.
**
(**Click to download and save on your computer. PDF format. Adobe Acrobat viewer required for viewing.)

Deka AGM Deep Cycle Batteries
Deka AGM Battery Benefits:

Maintenance-free construction eliminates the need to add water.
Completely sealed valve-regulated design eliminates acid spills and terminal corrosion.
Safer operation substantially minimizes chance of acid spray, fumes and explosion hazards.
Flexible design can be installed in almost any position.
Lower electrical resistance provides higher discharge rates.
High freeze-resistance offers longer battery life.
Resists vibration damage for longer operating time.
Rated non-spillable by ICAO, IATA and DOT
Transports easily and safely by air. No special containers needed
Made in the U.S.A.