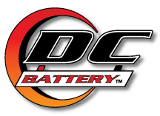 DC Battery Specialists
7415 N.E. 1st Place
Miami, Florida 33138
USA
Phone: 305-758-5041
Fax: 305-758-3469
Deka GEL Batteries

Deep cycle batteries for Marine, RV, Inverter, EV (Electric Vehicle), Golf Cart, Renewable Energy, Solar Panel (Photovoltaic), and Alternative (Alternate) Energy Applications.
**
(**Click to download and save on your computer. PDF format. Adobe Acrobat viewer required for viewing.)

Deka GEL Deep Cycle Batteries
Deka GEL Battery Benefits:

Valve-Regulated.
Gelled-electrolyte.
Sealed construction eliminates periodic watering, corrosive acid fumes and spills .
Increases durability and deep cycle ability for heavy demand applications.
Less than 1% per month stand loss means little deterioration during transport and storage.
Rated non-spillable by ICAO, IATA and DOT.
Transports easily and safely by air. No special containers needed.
Made in the U.S.A.