Rolls Surrette Marine Batteries
Rolls Surrette batteries are constructed with techniques and materials
which are unique in deep-cycle battery manufacturing!
DC Battery Specialists is the Stocking Warehouse Distributor of the
Rolls Surrette Battery Line. Manufactured by Surrette Battery Ltd.**
(** Marketed in the US as Rolls Battery and Internationally as Surrette Battery.)
DEEP-CYCLE
MARINE BATTERIES
Designed by John Surrette, the father of modern deep cycle batteries, these batteries have a reputation for heavy duty deep-cycle capacity with a long service life. This reputation has spread worldwide among commercial captains as well as serious pleasure boaters. Rolls Surrette batteries are constructed with techniques which are unique in marine deep-cycle manufacturing. Emphasis is placed on the Rolls Surrette positive plates, since they are the limiting factor in battery service life. Rolls Surrette manufactures it's own materials, which are unavailable to competitors. They do not use commercially available inexpensive automotive grade components.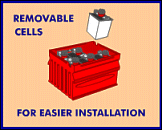 The heart of the Rolls Surrette battery is their thick high density positive plates. Each Rolls Surrette positive plate is wrapped in fiberglass matting to extend active material integrity during cycling service. This mat holds the active material in place during deep discharges and keeps the plate material from shedding off of the plate. The mat covered plate is inserted into a micro-porous polyethylene envelope to insulate it from the negative plate and isolate it from impurities which may try to contaminate it and shorten it's service life. This unique insulating technique deletes the need for sediment chambers at the bottom of each cell, since any sediment is captured and contained within the envelope. Subsequently, this allows space for taller plates, which increase capacity, adds to battery service life, and accounts for the additional weight of Rolls Surrette Batteries.
Advanced engineering design, in combination with new improved materials, gives Rolls Surrette batteries longer service life.
When capacity and service life are considered, Rolls Surrette batteries consistently prove themselves to be the least expensive batteries to use in marine cycling service.
(Click below to download and save on your computer. PDF format. Adobe Acrobat viewer required for viewing.)